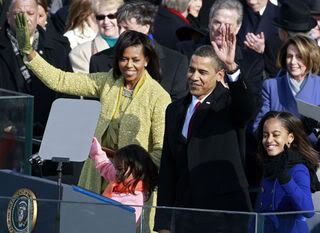 The Obamas!
I can't believe this is our new First Family!! I totally cried when he was sworn in. I volunteered for his campaign over the summer and early Fall. Its weird to think that something many of us worked very hard for actually came through! I'll never forget the night it was announced that he won and Philadelphians celebrated in the streets. The whole country seemed to come together in happiness.
I think now everyone definitely feels a bit more hopefully about the future of the country, even though there's a long way to go and a lot of hard work to do.
Also ...
In the South American country of Guyana, dozens of work sites closed at noon to let employees watch the inauguration.

"As far as I am concerned, today is a holiday," said Patrick Hazelwood, an insurance agent in the capital of Georgetown. "I have also told my staff they are free to do what they want and take in the ceremony. Today is a serious day for everybody, a historic day."
-
Worldwide hopes soar!