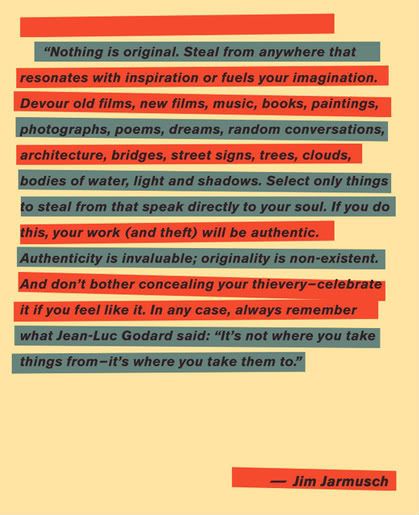 via
swissmiss
As a designer it took me a long time to come to terms with the content of that quote because we all come out of college thinking we're going to design the next big thing that NO ONE has ever seen before. In reality when you look around at a lot of commercial graphic design, what you see is a derivative from some other style or its coasting on the trendy style of the moment.
I think as designers we look at the world through a different lens and overanalyze most of what we see, but the average joe is going to gravitate to a design and style that they like and something they connect with on some emotional or superficial level.
As a consumer I gravitate to Japanese inspired motifs or tattoo inspired prints and I'm not alone in that, that's why so many designers use that style because they know it sells and people like it.
Eventually I just realized that you don't have to try to be the most original designer, you just have to design things that people connect with.
I think that's why I got so attracted to tattoo art, there's no pretending in trying to be original, as a tattoo artist you just try to excel at whatever style you like, be it Japanese, Black & Grey or ultra realistic, among others. No one is trying to reinvent Japanese waves and shading techniques you know?
To me the important thing is to become really great at what you do regardless of where the inspiration comes from, because at this point its hard to be truly original, everything is derivative and that's ok.