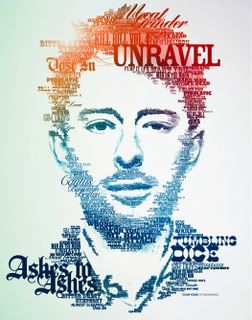 A Grammy 2009 promo featuring song titles that inspired Thom Yorke. Not the most original idea ever but its kind of refreshing to see it in mainstream American design.
Tsang Kin-wah
designs a lot of
text/pattern installations
like the one featured in this design. In this one book I have they featured one such
installation in a bathroom.
It was a floral wallpaper, all the lines of the design were rendered in text that spelled out profanities haha.